Pat Murphy's Commercial Electrician Services
Commercial And Industrial Electrical Experts
Installing, repairing, or providing electrical maintenance for your business is an important task that can be stressful for those without commercial electrician experience. Our team of electric professionals understands that, and the commercial and industrial electrical contractors at Pat Murphy Electric are ready to help with all of your commercial and industrial electrical needs. 
We offer a full range of electrical services for businesses of all sizes and specialties throughout the Atlanta and Knoxville areas. Our main priority is safety and accuracy, and we believe the right way is the only way when it comes to electrical work. All of our Atlanta industrial electrical contractors are licensed, having extensive training in personal and public safety regarding electrical work. Our team is Class 1/Division 1 experts, as well as corrosive area experts. When you need a professional commercial or industrial electrical team for your business or manufacturing plant, we are the company for you!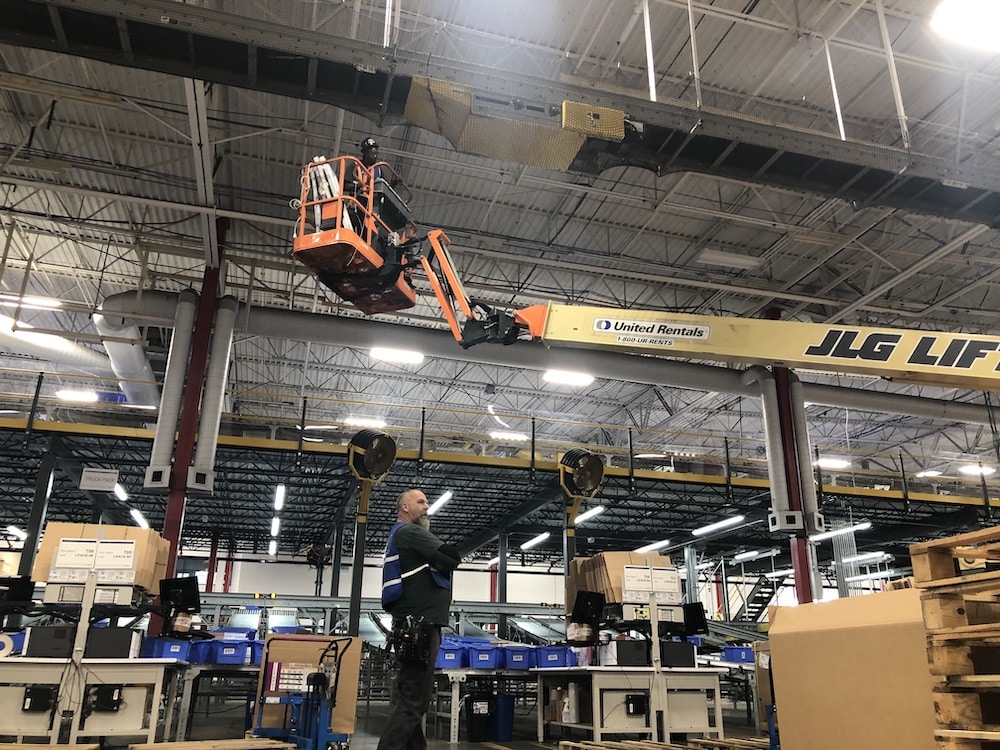 What do Commercial Electricians do?
For many businesses, productivity relies on a building's electrical system. It is difficult, and in many instances impossible, to run a successful business without power, lighting, or heating and cooling units.
Commercial electricians are highly trained and extensively educated licensed professionals who can both plan and install a building's electrical system. Making sure a business's electrical system is properly installed requires precision and years of training. In many states, the law requires anyone involved in commercial electrical services to be licensed. 
After mastering standardized curriculum, commercial electricians obtain their license and can plan, diagram, work from blueprints, and install electrical systems on commercial properties. Whether you are constructing a new retail store or your restaurant needs an electrical inspection, our commercial electricians can help with both new and maintenance projects.
Difference Between Commercial and Residential Electricians
Other than needing a license to perform commercial electrical installations, commercial electricians deal with different load sizes, materials, and procedures when performing their work. Electrical wiring in commercial buildings is often installed strategically, keeping future repair, maintenance, and changes in mind. In your home, the wiring is safely hidden behind walls and in attic spaces. 
Because there are many differences between residential and commercial electrician services, it's important to hire commercial electrician experts to do work on your business property. At Pat Murphy Electric, we offer a wide variety of commercial electrical services, including 24-hour emergency electrical repair services! As part of our commercial electrical services, we also have trained industrial technicians for all of your manufacturing and production electric needs.
WHAT DO INDUSTRIAL ELECTRICIANS DO?
With all of our commercial and industrial electricians having years of experience and licensing, the main difference between commercial and industrial is their work environment. A commercial electrician will be best to work on your retail business, restaurant, office building, or the like. An industrial electrician, on the other hand, is more likely to be found in manufacturing plants and production facilities that have complex and sensitive electrical systems to run their machinery. Industrial electrical work can go from high voltage components to micro-currents. Like commercial electric work, industrial electrical is done using a three-phase power set-up. However, industrial electric work tends to use different materials than a commercial job would require. At Pat Murphy Electric in Atlanta, we have industrial electrical contractors who are qualified for all levels of electrical servicing - from wiring up a restaurant's kitchen to installing industrial tank farms.
For Commercial and Industrial Electrical Services With Pat Murphy
Get 24/7 Emergency Support Now 470-588-9505